Your Colorado Local Solar Experts
Easy online consultations and highly reviewed installation services

At Solar Wave, we are committed to helping Colorado residents make the switch to clean energy. As a leading solar installation company in the area, we make the process easy and hassle-free with our instant online quotes and expert team of local installers.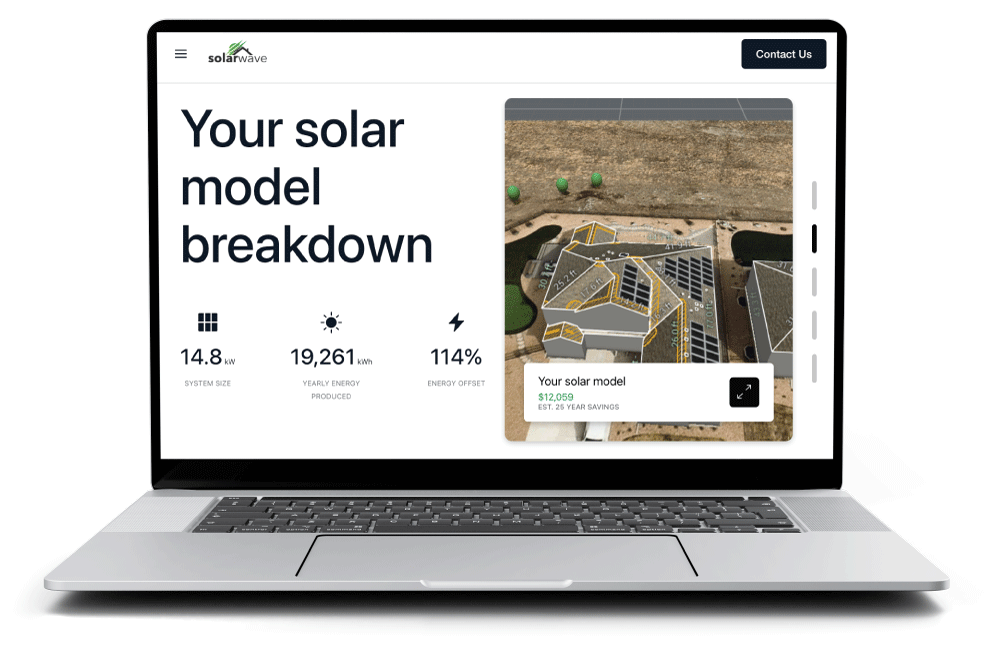 Ready to take the first step towards energy independence? Click below to receive a fast and easy online quote from Solar Wave, the trusted choice for solar installation in Colorado. Our expert team is ready to help you harness the power of the sun!
Unlock Peace Of Mind With 25 Year Protection
We proudly offer 25-year workmanship, product, and performance warranties on all our solar installations.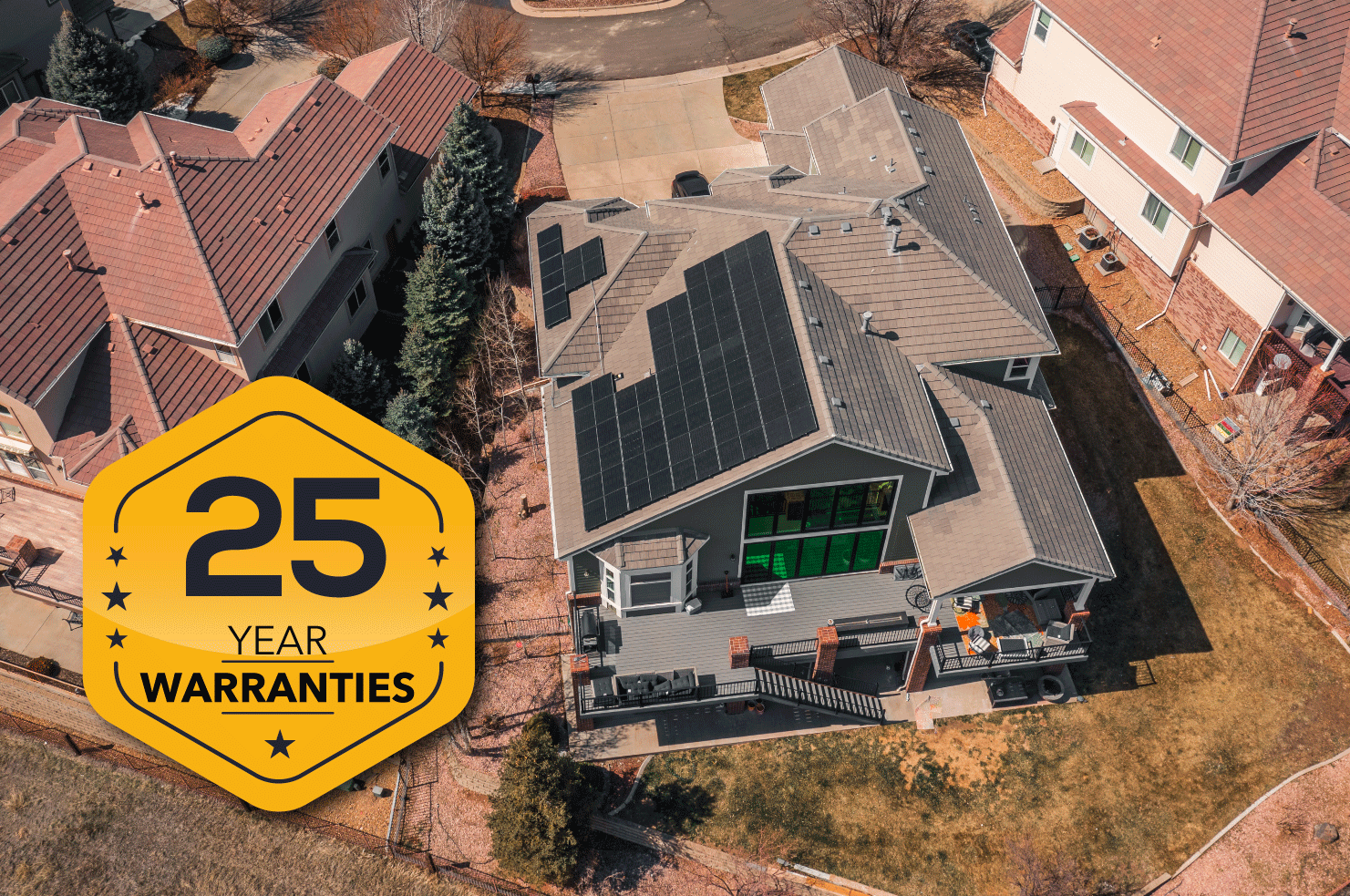 We Have the Experience to Get Your Solar Project Done Right & On Time.
Take a look at our latest projects!
What makes Solar Wave different from the competition?
We offer the best solar equipment at the lowest prices.

You can request and receive a quote 100% online.

We have transparent pricing & financing fees.

We offer 25-year performance, product & labor warranties.

We have in-house licensed & insured installation teams.
Go Solar With $0 Out-Of-Pocket
We offer a variety of solar financing options that allow you to keep your cash in your pocket. Add equity to your home by owning your energy rather than paying your utility company.
Unlimited Referral Rewards
Hundreds of Colorado residents are going solar every day. Maybe you know someone who is interested. Refer them to us and receive $250 when they sign up! This is a great way to multiply your impact and increase your return.
Colorado Incentives & Rebates
We can help Denver county residents receive Climate Action rebates for solar and battery systems. Reach out to us today to discuss your eligibility.
Currently Serving
Denver, Lakewood, Littleton, Morrison, Evergreen, Englewood, Highlands Ranch, Centennial, Lone Tree, Arvada, Wheat Ridge, Golden, Westminister, Berkley, Thorton, Northglenn, Broomfield, Ralston Valley, Ken Caryl, Parker, Aurora and more.
Ready To Recieve A Quote?
Our process to request a quote only takes a minute.
Solar energy is an unlimited natural resource, and Colorado offers 300+ days of sunshine a year which makes it a perfect place to invest in a solar energy system. By investing in solar you can take control of your energy bill, achieve energy independence and reduce your carbon footprint.
Yes, solar can save you money in a couple of ways. Going solar can lower your monthly electricity expense as well as protect you from rising utility rates in the future. How much you can save depends on the utility rates you currently pay and the incentives available to you. Solar Wave will help you forecast just how much you can save by preparing and presenting you with a fully custom solar proposal. Start your proposal by clicking here.
How does net metering work?
With net metering, you only pay for the electricity that you use beyond what your solar panels can generate. Net metering policies are set by your utility company. It is important to review your utility company's net metering policy so you understand how their billing system works. For more on net metering click here.
Can solar raise the value of my home?
Studies by both Zillow and Energy.gov show that you can increase the value of your home by adding solar. When you consider the utility savings your system can provide, the increase in home value is a great bonus.
Do solar panels produce power for my home when the grid goes down?
Generally no, but they can with a backup solution. In a standard grid-tied solar panel system your solar panels will be required to shut down if the grid goes down. This is to protect power from feeding back to the grid which could endanger utility workers. If you want to continue to produce power when the grid goes down, you will need a backup power solution with your solar panels. For more on backup power solutions click here.
Will I still have an electric bill if I have solar panels?
Unless you are fully off-grid with backup power solutions, you will still receive an electricity bill from your utility company. If your system is designed properly to match 100% of your energy needs, you could reduce your bill to just your utility connection charge.
Can I go completely off grid with solar?
Yes, but you will need backup power solutions like batteries or generators. In some cases the county or city jurisdiction where your property is located may restrict you from going off-grid.
Do solar panels require maintenance?
Solar panels are made of durable tempered glass and require little to no maintenance for the 25 to 35 years that they will generate power. In most cases, you don't even need to clean your solar panels. You can let the rain or snow take care of that for you. If something does happen, you will have manufacturer warranties on all equipment installed by Solar Wave.
Which roofs are best for solar?
Generally solar can mount to any style of roof. Ideally, you want solar panels on a south-facing slope, however, east and west-facing slopes are suitable as well. North-facing slopes generally will not have enough direct sunlight to produce a significant amount of power.
What size solar panel system will I need?
The solar panel system you need will vary based on many factors. It all starts by speaking with an accredited Solar Wave professional. We will ask you for your past energy usage data and will be able to size a system for your specific needs. Start your proposal today by clicking here.
What happens if I sell my house?
Selling your home with solar is not a problem. Your solar warranties and even your solar financing can be transferred over to the new homeowner. To a savvy buyer, your home will be far more appealing than a house without a solar panel system.
What happens if my solar panels are damaged by hail or by a large storm?
Solar panels are constructed using tempered glass so it takes very large hail or a major storm to damage your solar panel system. After you go solar, you will want to make sure your homeowner's insurance policy has enough coverage to replace any of your panels that may be damaged in a heavy storm.
How long will my solar panel system last?
A solar panel system from Solar Wave will be very durable and capable of generating electricity for 25 to 35 years. Almost all the solar equipment we offer come standard with 25-year warranties which protect your system well after you recoup your investment.